Mumbai (HO) | New Delhi | Chennai | Kolkata | Hyderabad | Ankleshwar

0
Enquiry Cart

Empty Cart

e-Brochure
15 PPM Bilge Alarm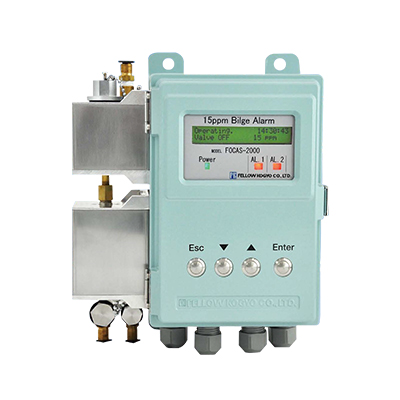 FOCAS 2000
Since our company was established in 1969, we have been developing environment monitoring devices and many measuring instruments and sending out them into the industrial world to make a contribution for environmental protection.
In these days in which environmental pollution is gradually advancing on a worldwide scale, the whole world is tightening the environmental protection and monitoring on stricter standards.
This advanced device FOCAS-2000 has been researched and developed by using the accumulated technology that was highly appraised as a result of sending them out the Oil Concentration Detector FOCAS 4 Series in the past.
This product adopts an automatic operation method using sample water pressure which is matched to the operation of an oil separator or pump.
The automatic washing function of the Detection unit can reduce troublesome manual washing work.
An error code indication provided at occurrence of a device fault and a stain indication of the Detection unit facilitate maintenance and inspection. The product has a high-maintainability structure.
Operation records such as trouble alarms can be saved in a memory card and confirmed as required.
For alarms, a double safety method is used. When the oil concentration is 15 ppm or more. and When sample water is defective or the instrument is defective. a alarm is output.
Censor unit is replaceable.
Main Item
Specifications
Drawing No.
Application
Bilge concentration monitor (bilge drainage)
Measurement Method
Optical continuous measurement
Operation Method
Automatic operation using sample water pressure
Response Time
Within 5sec , comply with MEPC107(49)
Power Supply / Power Consumption
AC90 ∼ 240 V 50 ∼ 60 Hz 20 VA or less
Measurement Range
30ppm in full scale
Measurement Accuracy
Within ± 5ppm (at 15ppm)
Conditions on Sample Water
pressure : 0.03 ∼ 0.3MPa flow rate : 0.2 ∼ 3 L /min water temperature : +2 ∼ +45°C
Clean Water Pressure for Washing
0.03 ∼ 0.6MPa
Material Measured and Identified
light oil 10ppm in 100ppm iron oxide solution
Battery for Clock and Lifetime
Lithium battery (CR2450) about 2 years (recommended manufacturer : FDK Energy Co Ltd. Japan)
Service Temperature* Humidity
0 ∼ 50°C 5 ∼ 90%RH no dew condensation
Maximum Measurement Angle of Inclination
Within 22.5° in each direction
Indications and Outputs
Indication of oil concentration : displayed in 24 digits 2 lines. alpha-numeral Character LCD、 oil alarm lamp : red LED blinks Alarm1、Alarm2、 VALVE Each contact output、 REC Analog output
Indications and Outputs
Indication of oil concentration : displayed in 24 digits 2 lines. alpha-numeral Character LCD、 oil alarm lamp : red LED blinks Alarm1、Alarm2、 VALVE Each contact output、 REC Analog output
Terminal Specification / Oil Alarm Operating Point
VALVE (for three-way valve)
1 circuit for contact output, 1 B contact (Max AC250V 2 A) Supply voltage output
Alarm1 alarm (5 ∼ 15ppm variable)
1 circuit for contact output, C contact (Max AC250V 2 A)delay time 0∼5 seconds
Alarm2 alarm (5 ∼ 15ppm variable)
1 circuit for contact output, C contact (Max AC250V 2 A)delay time 0∼600 seconds
REC (Analog output)
DC4-20mA(0-24mA) line resistance less than 750Ω
Operation Recording Function
Power turn-on and off, time of each alarm output/release (record memory 2Mbit) comply with MEPC107(49)
Piping Bore
For sample water inlet, clean water inlet and drain outlet : O.D. of φ8 orφ10 with ring joint for copper pipe(φ8 factory default)
Cable Gland
4 pcs(φ10.5 ∼ φ14.5)
Water-Proof Grade
IP = 54
Coating Color
7.5BG 7/2 (Since this color is manufacturer standard, it cannot be changed.)
Outside Dimension Weight
W=251 mm × H=283.5 mm × D=122 mm Total weight:approx. 4.8 kg (excluding accessories) (body=approx. 3.0 kg. Sensor unit=approx. 0.6 kg. Solenoid valve unit = 1.2 kg)