Mumbai (HO) | New Delhi | Chennai | Kolkata | Hyderabad | Ankleshwar

0
Enquiry Cart

Empty Cart

e-Brochure
Formaldehyde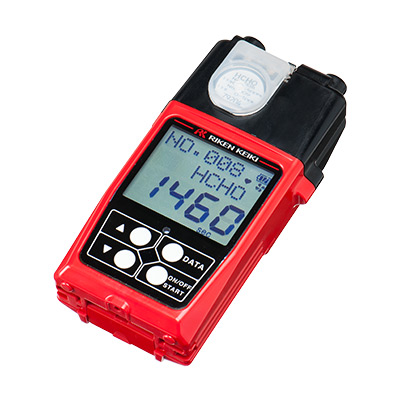 Portable Formaldehyde Gas Detector

FP-31
The FP-31 is a highly sensitive portable gas detector specific for formaldehyde detection. It uses a photoelectric photometry method which utilizes colorimetric tablets for detection. A tablet in placed into the instrument, and then a room air sample is pumped onto the tablet for either a 15 minute or a 30 minute period. If formaldehyde is present, it will cause the chemically impregnated tablet surface to darken or stain. The magnitude of the stain directly correlates to the level of formaldehyde in the air. The stain darkness is read by an optical sensor in the FP-31, and then the instrument calculates the formaldehyde concentration. The FP-31 then has a direct readout of the formaldehyde measurement on an easy to read LCD display. The unit is capable of detecting very low levels of formaldehyde, in order to confirm if an area contains safe breathing levels.
Features

Specification

Accessories
Built-in sample draw pump
Photoelectric photometry technology
Direct digital readout
Colorimetric detection tablet method
No false readings from interfering gases
Operates on 4 AA
Stores 99 readings
No warm up time
Model
FP-31
Target Gas
Formaldehyde (HCHO) in air
Detection principle
Photoelectric photometry method
Detection range
TAB No.008
TAB No.009
0 - 0.4ppm
0 – 1.00ppm
Digit
0.005ppm
0.01ppm
Detection time
1,800 seconds
900 seconds
Display
Digital display with LCD
Sampling method
Built-in Pump sampling Flow rate: 0.5L/min
Operating temp & humidity
-10 - +40 degree C, below 90%RH
Memory capacity
99 data (automatically- saved after detection)
Self-diagnosis system
Sensor failure, Pump failure, Battery error, System failure
Power supply
Size AA alkaline battery x 4pcs
Continuous operation
Approx. 12 hours
Dimensions
80(W) x 150(H) x 40(D)mm
Weight
Approx. 250g without dry-cell battery
Remark
Formaldehyde detector Specified by the Minister of Health, Labor & Welfare in Japan
Function
Automatic saved data, Clock function, Data logger function
Specifications subject to change without notice.
Accessories
Detection tab x 20pcs
Size AA alkaline battery x 4pcs
Attachment for tripod stand
Optional Accessories