Mumbai (HO) | New Delhi | Chennai | Kolkata | Hyderabad | Ankleshwar

0
Enquiry Cart

Empty Cart

e-Brochure
Transmitters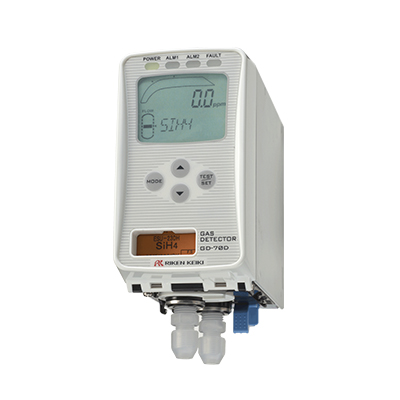 GD-70D
The new Model GD-70D smart Gas Detection transmitter series sets a new standard for performance, flexibility, and versatility. The GD-70D sample-draw transmitter offers an array of sensor technologies unmatched in the industry, including unique offerings, such as our Hydrogen-specific or LEL versions.
The long life high capacity pump and wide variety of sensing elements are replaceable in a few seconds, with no tools required. The smart sensors retain all calibration and sensor-specific data in non-volatile memory, so sensors can be hot-swapped in the field with no programming required. The sensors also retain calibration information, which means they can be conveniently calibrated separate from the transmitter, avoiding transport of calibration gases to the field location. The GD-70D firmware automatically corrects for long-term zero and span "drift" minimizing maintenance and maximizing reliability.
The GD-70D can be used as a stand-alone device, offering a number of communication protocols to existing PLC systems, or can be integrated with RKI's Beacon series of single and multi-channel controllers.
All GD-70D transmitters include a large, easy to read integral LCD display, tri-color bar graph for visual notification of alarm status, programmable low and high alarm relays, and fault relay. Pump flow is self-tuning for maintenance-free operation. Because all GD-70D base units are identical, sensors can be interchanged with no programming or tools required, resulting in maximum flexibility to the user.
Features

Applications

Specification

Accessories
Common platform (Main/Sensor/Pump) for all detection methods
Universal main unit (All sensor types)
Multifunctional sensor unit (New Intelligent Sensor)
No internal tubing (Main unit) /No coil (Pump unit)
Front access/No tool required/Easy replacement of sensor and pump
Large size LCD (Easily viewable)
IR Sensors Available for LEL & C02
Minimal maintenance cost through enhanced troubleshooting firmware functions
Smallest mounting space
Simple upgrade from old units
Environment friendly
Global standard
Solar Cell
Semiconductor
LCD Factories
Chemical Plants
Pharmaceutical / Bulk Drug Manufacturer
Fertilizers
Model
GD-70D
GD-70D-EA
Communication
4-20mADC
4-20mADC/POE
Detection Principle
Several kinds of Detection principle available. It depends upon measuring gas and range.
Sampling Method
Sample-drawing (Auto-adjustment of flow rate) 0.5.etmin ±10%
Display
Large LCD display (White back light)
Gas concentration
Flow rate, Communication status, Pyrolyzer status, Gas Detected
Error code, Content of error
Display (Alarm lamp)
1st alarm : Red 2nd alarm : Red Fault alarm: Yellow
External Output
1st alarm/2nd= alarm/Trouble alarm: Relay contact output for each alarm
Self-Diagnosis
System failure, Sensor failure, Flow failure, Communication failure (EA)
Data Logging Function
Event history, Alarm history, Calibration history
Alarm trend (180 sec before/after 1st alarm)
Operating Temp. & Humidity
0-40°C, 30-70%RH (non-condensing)
Operational Settings
All operational settings are user adjustable through front panel
Power Requirements
DC24V±10%, approx 1.5W (Max 4W including sensor unit)
Note : Approx 2.5W (max 5W) with SGU sensor unit
DC24±10% / POE
Dimensions
70(W)x120(H)x145(D) mm (2.8"Wx4.7"Hx5.9"D)
Weight
Approx. 0.9kg (2.0Ibs), including sensor unit
Mounting
Wall-mounting base plate by 2 or 3 screws
Sampling Tubing
4x6mm PTFEtubing recommended. PP half union fittings provided as standard accessories
Gland
Cable type varies depending on communication method (Cable gland optional)
Specifications subject to change without notice.
Teflon Tube for Remote Sampling
Trilog Software
Repeater Panel
Auto Dialer
Water / Dust / Solvent Filter
Flame Proof Flasher

Safe Area Hooter

Weather Proof Canopy