Mumbai (HO) | New Delhi | Chennai | Kolkata | Hyderabad | Ankleshwar

0
Enquiry Cart

Empty Cart

e-Brochure
Single Channel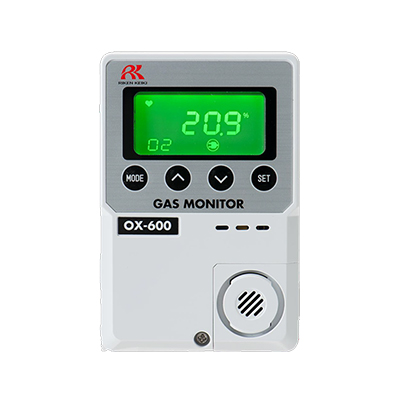 OX-600
Riken has specially designed OX-600 wall mounted Single channel Oxygen sensor. It's a versatile model that can be ordered fitted with inbuilt Oxygen sensor or with extension cable with predefined length of 3m/5m/10m/20m, Unit has 3 color LED display with inbuilt Audio Alarm.
Features

Applications

Specification
Stand alone with audible and visual Alarms (Analog output is also available)
Intuitive three color alarming Display
Long life and reliable Oxygen sensor
Three kinds of power supply are available, 100-120VAC, 24VDC, and Dry cells (two AA batteries)
Remote sensor with cable length 3m, 5m, 10m, 20m are available (optional)
Pressure compensation to eliminate false Alarm caused by pressure variation
Laboratories
Cryogenic
Clean room
Gas storage room
Any facilities using inert gases such as nitrogen, argon, helium, etc.
Model Name
OX-600
Detection Principle
Galvanic Cell
Gas Detected
Oxygen
Sampling Method
Diffusion or remote sampling method
Measuring Range
0-25.0vol% ( 0.1vol% digit)
Preset Alarm Levels
1st :19.0vol% 2nd:18.0vol% (Standard)
Alarm Types
Two preset alarms (L-LL)
Trouble Alarm Method
Non-latching or Latching
Display
LCD digital display (3 digits, 3 color, Green, Orange, Red backlight)※1
Indication on the display
Measuring gas, Gas concentration, Measuring unit, Battery level (alkaline battery type only)
Functions
Self-diagnosis(sensor fail, watch fail, system fail), Pressure compensation
Power Supply
100-120VAC 50/60Hz
DC24V±10%
AA alkaline battery x 2pcs
Power Consumption
MAX5VA
MAX3W
―
Alarm Contact
Non-voltage contact 1a or 1b・normally-open (closed in ALARM)
―※2
Transmittance Specification
DC 4-20mA(Non-isolated, Resistive load under 300Ω)
or DC 0-1V (Non-isolated)
DC 0-1V (Non-isolated)
Remote Cable
3m/5m/10m/20m
Operating
0-40°C (no sudden change), Below 90%RH以下(no-condensing)
Dimension
Body : approx. 80(W)×120(H)×35.5(D)mm
Remote sensor : approx. 40(W)×96(H)×35.5(D)mm)
Weight
Approx. 200g
Approx. 180g
Approx. 230g
Weight of Remote Sensor
Approx. 55g(without cable)
※1 No backlit for battery type at normal times
※2 No contact for battery type