Mumbai (HO) | New Delhi | Chennai | Kolkata | Hyderabad | Ankleshwar

0
Enquiry Cart

Empty Cart

e-Brochure
Single Channel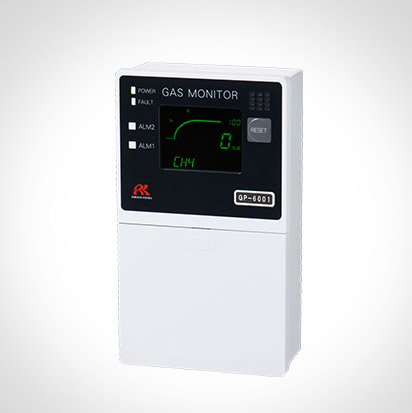 RM-6000
RM-6000 series is Riken make Single Channel Monitor series that can be installed to detect Combustible, Oxygen or various Toxic, gases. It uses reliable Riken Detector / Transmitters based on Catalytic / Semiconductor/ Electrochemical/ Galvanic or Infra red sensors. Display of Gas conc is by 3 color LCD Bar graph. It's a wall mounted model that provides Relay contact for Alarms and 4-20 mA retransmission output.
Features

Applications

Specification

Type
Compact and light weight
Bar meter and Digital Multi-indication
Easy to Install
Two Alarm levels, trouble Alarm
Maintenance mode function
RoHS Compliant
Global standard
LPG, LNG utilities
Petro-refinery, Petrochemical plants
Chemical plants
Semi-conductor manufacturing plants
Engineering, public works
Power station
Iron and Steel works
RM-6000 Series
GP-6001
NC-6001(W)
SP-6001
GH-6001
EC-6002
OX-6001
OX-6002
RM-6002
RM-6003
Detection Gas
Combustible
Combustible / Toxic
Toxic
Oxygen
Combustible / Toxic / Oxygen
Indication
3-color LCD bar meter (52 dots)
Type of Acceptable detector Head
Catalytic combustion New ceramic
Special Catalytic / semiconductor combination sensor
Semiconductor
Electrochemical Cell
Galvanic Cell
4-20mA outputs
2-wire type
3-wire type
Acceptable Input Signal
Direct sensor signal
4-20 mA output
Direct sensor sighal
4-20 mA output
Applicable Cable
CVV-4C
CVVS-3C
CVVS-2C
CVVS-3C
Max Distance
Max 1.0km
Max 1.0km
Max 2.0km
Max 600m
Max 2.0km
Output Signal
Output of electric power transmission (non-isolated) 4-20 mADC, max loop load 300 Ω
Alarm Indication
Flashing or lighting lamp : Red (AL1), Red (AL2), Latching or non-latching, Locking mode
Trouble Alarm
Orange lamp flashing (FAULT), Non-latching
Alarm Relays
Normally energized or de-energized, Normally-open or close contact
Rated 1A at 125VAC, 1A at 30VDC (resistive)
Operation Condition
-10 - 50°C, below 95% RH (non-condensing)
Power Requirement
AC type : 100 - 240 VAC +/-10%
DC type : 24 VDC +/-10%
Power Consumption
Max 15VA
MAX 8.5W
Max 11.5VA
MAX 6W
Max 7.5VA
MAX 3.5W
Max 6.5VA
MAX 3W
Max 7.5VA
MAX 3.5W
Dimensions & Weight
Approx. 110(W) x 190 (H) x 54(D) mm, Wall mounting type : 580g / panel mouting type : 650g
Mounting
Wall mounting type / Panel mounting type
Specification subject to change without notice.
GP-6001
Combustible gases
SP-6001
Combustible gases
Toxic gases
GH-6001
EC-6002
Toxic Gases
OX-6001
Oxygen
OX-6002
RM-6002
Combustible gases
Toxic gases
Oxygen
(4-20 mA)
RM-6003