Mumbai (HO) | New Delhi | Chennai | Kolkata | Hyderabad | Ankleshwar

0
Enquiry Cart

Empty Cart

e-Brochure
Fumigation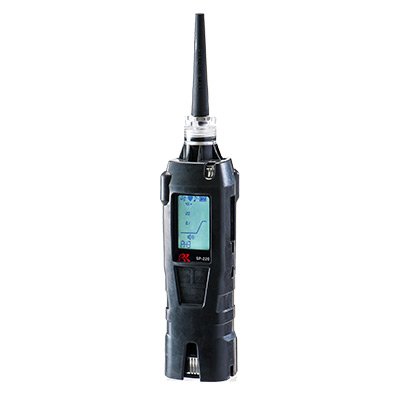 FUMIGATION GAS LEAK CHECKER AND TLV DETECTOR

SP-220
SP-220 FUM is a portable gas leak checker designed to easily check for fumigation gas leaks. It doubles up as TLV detector. With 12 hours operation on 2 AA size alkaline batteries and weighing in at only 215 grams this instrument is ideal for fumigation. This device is revolutionary to the gas detection market, in that it has been designed to be light and compact but also a very reliable tool for the user.
CALIBRATION REQUIRED: ONLY EVERY 1 YEAR
Features

Specification

Accessories

Advantages
Gases detected Ph3, MBr, CS2, MI, HCN, SO2F2, C2H4Br2
Measurement Gas Changeable on field by customer
Long life and Reliable solid state sensor
Accurate and fast detection of even minor leaks
Easy Grip & Robust structure
Large Display with Audio, Visual Alarm
LED light available. Easy to measure gas leakage at a dark place
Very light weight only 215 gms.
Intrinsically safe, Dust & Water proof to IP 55
CALIBRATION REQUIRED: ONLY EVERY 1 YEAR
Model
SP-220 TYPE - FUM (Fumigation)
Target gas
Refer to the gas list
Detection principle
Hot-wire semiconductor method
Sensor
SH-8662
Measuring range
Depends on target gas
Alarm set point
Depends on target gas
Accuracy
Displays 0.1 ppm-bar when applied PH3 0.3 ppm.
Alarm pattern
Gas alarm: Gas concentration reached or over the setting point.
Trouble alarm : Sensor connection / breaking, Low battery, Low flow Circuit error, Calibration error
Alarm method
Non-latching
Display of alarm
Gas alarm: Flashing LED, Buzzer
Trouble alarm: Flashing LED, Buzzer, Display of error message
Alarm delay time
0 sec.
Sampling method
Sample draw
Response time
10 sec.: Time to reach 0.1 ppm when applied PH3 0.3 ppm.
Output signal
IrDA
Switch
「AIR」「MODE」「POWER」
Display device
LCD
Display contents
Gas name, Gas concentration, Time, Battery, Pilot indicator, Pump driving indicator
Power source
2 AA dry cell batteries
Continuous operation
More than 12 hrs.
Operatingtemp.& humidity
-20 ~ + 55°C (-4°F~ + 131° F), 0~95%RH (Non-condensing)
Dimension & Weight
200mm(H) x 43mm(D) x 47mm(W)
(Taper nozzle not included), 215g
Ingress proof
IP 55
Function
Manual LCD backlight (Automatically ON when alarming), Peak value, Snap logging, Time, Cal alarm
Standard Accessories
Hand strap
Protection rubber cover
Taper nozzle
2 x Alkaline battery
Gassensitivity & Display
SP-220 works as Leak Checker and TLV Detector. Competitor instruments either work as Leak checker or TLV detector.
SP-220 has in built pump for fast response. Competitor models are diffusion type only. This leads to slow response.
SP-220 needs Calibration after every 1 year, Unlike Competitors which requires calibration every 6 months. Time taken by Tritech for Calibration is only 1 day this cannot be said about competitors.
Same SP-220 can be used to detect MBr & Ph3 gases just by change of setting by user himself. Competitors Instrument only detects 1 gas.
SP-220 uses long life & reliable solid state sensor same as previous Model: GH-202F. These instruments have long life more than 10-15 years. depending on usage. Such long life and reliability is missing in competitors products.
SP-220 has Rubber coated, tough enclosure which is ATEX approved and IP55 certified. Competitors offer plastic housing.