Mumbai (HO) | New Delhi | Chennai | Kolkata | Hyderabad | Ankleshwar

0
Enquiry Cart

Empty Cart

e-Brochure
Single Gas Detector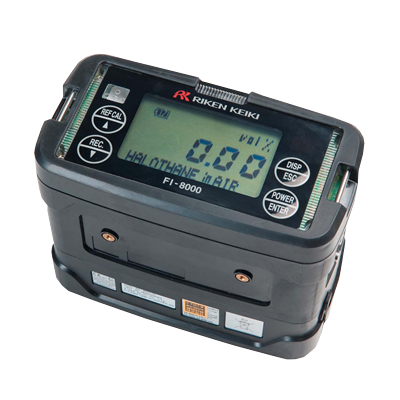 FI-8000
In early 1930, many of explosion accidents at oil tanker were occurred. To prevent these accidents, a gas Detector based on optical interferometric method was developed and Riken Keiki was founded as this product manufacture. The gas Detectors were used in a coal mine for safety use throughout the world.
Riken gas indicator model 3 has been distributed to Japanese life as an valuable instrument and approved as a heritage of analytical and scientific instruments by JAIMA and JSIA.
Features

Applications

Approvals

Specification

Accessories
Max 8 measuring gas range, available
Intermtttent measuring mode available
(For pump suction type only)
Inqress proof rating IP67
Suited for outdoor work.
Easy-to-read wide LCD display
Intrinsicetty safe (ATEX Presafe 14ATEX 5711)
Explosion proof class Exia lie T4 Ga
2 way of sampling method
Pump suction type or Hand aspirating type
Fumigation / Pest control operation
Gas Purity measurement
Measurement of Anesthetic Gases
Measurement of Fuel calorie
SF6 Gas Purity Measurement
Explosion proof : TIIS / ATEX / IECEx
CCOE (PESO)
Model
FI-8000
Measuring Principle
Optical interferometric method
Measuring Gas
Refer to the 3rd page
Indication Accuracy
Within ±3% (at constant temperature)
Type
TYPE P
TYPE A
Sampling Method
Pump Suction type
Hand-aspirating type
Self-Diagnosis Function
Low battery,Low light, Low contrast,abnormal atmospheric pressure and abnormal temperature
Display
LCD digital (7-segment value display + code + 20 segment word x 2 lines)
Each Display
Measuring gas, gas concentration, measuring unit and battery capacity reminder
Power Source
Alkaline battery pack (AA size battery x 3 pes) (standard) Or, Lithium ion battery(optional)
Ingress Proof Rating
IP67 equivalent
Ambient Humidity & Temp
Temperature: -20∼50°C, Humidity : Below 95%RH (Non-condensing)
Dimensions
Approx. 154 (W) x127 (H) x81 (D) mm
Weight
Approx. 1.1kg (including alkaline batteries)
Approx. 1.2kg (including lithium ion batteries)
Continuous Operation
Above 12 hrs (for alkaline battery use)
Above 18 hrs (for lithium ion battery use)
(25°C with no back light on)
Above 16 hrs (for alkaline battery use)
Above 24 hrs (for lithium ion battery use)
(25°C with no back light on)
External Output
IrDA (for data logging)
Function
Data logging, atmospheric pressure correction, temp compensation
Indication accuracy subject to the measuring gas.
Standard Accessories
Gas Sampling Tube (1m)

Sholuder Strap

Hand-aspirator (For TYPE A only)

Absorption Tube

Tube Fix Belt
Optional Accessories
Lithium ion Battery Unit

AC Adaptor

Datalogging Software