Mumbai (HO) | New Delhi | Chennai | Kolkata | Hyderabad | Ankleshwar

0
Enquiry Cart

Empty Cart

e-Brochure
Single Gas Detector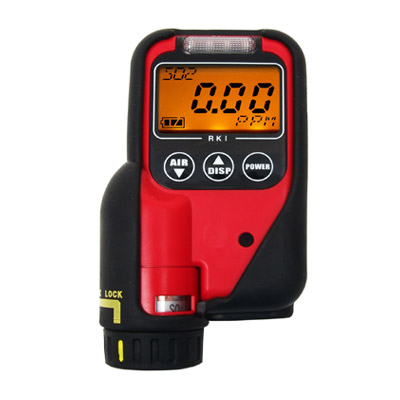 SC-01
Built around RIKEN's Latest smart sensor technology, the SC-01 is RIKEN's most versatile personal single toxic gas monitor. The sensors sre interchangeable and automatically recognized by the instrument. Weighing only 215g, it has many features which set it apart from the competiton. For example, it can monitor one specified gas of Ammonia (NH3), Chlorine (CL2), or Sulfur Dioxide(SO2). The SC-01 also has a unique extender cable where the sensor can be attached to the end of a 3 meter cable for quick response, remote monitoring.
The SC-01's large LCD Display shows all gas readings, battery level, current time, and will automatically backlight in alarm conditions. Standard alarm types include vibration, visual, and audible alarms that can be set to latching or self-resetting. Controlled by a microprocessor, the SC-01 continuously checks itself for sensor connections, low battery, circuit trouble, low flow, and calibration errors, The batteries are simple to replace, requiring no tools to access the battery compartment. One set of AA alkaline batteries provides continuous operation for over 250 hours.
The SC-01 is equipped with datalogging capability as a standard feature which communicates through an IR port with an optional windows based datalogging software program Calibration intervals and reminders are user adjustable and can be set to either go into alarm or to lock the user out of normal measurement mode once a calibration period has expired.
Features

Applications

Approvals

Specification

Accessories
Smart interchangeable sensors
Remote monitor capability by optional extender cable (3m)
Compact and light weight 63W x 131H x 31Dmm, 215g
250 hours of continuous operation
Operates on 2 "AA" alkaline batteries
Audible / visual/vibration alarms
Datalogging standard
Impact resistant protective rubber boot
Intrinsically safe, CSA, C/US pending
Utilities
Personal Monitoring
Refineries / Petrochemical
Chemical Plants
Hazardous Material
Hazardous Material
Intrinsically Safe, Exia II BT3
Detection Principle
Electrochemical Cell
Measuring Gas I Range
Ammonia (NH3) in air : 0-75ppm
Chlorine (CL2) in air : 0-3.0ppm
Sulfur Dioxide (S02) in air : 0-6.0ppm
Please specify one gas & range when your ordering
Alarm Operation
Latching and reset function
Display
Digital LCD, auto backlight during alarm
Kinds of Alarms
Gas alarm : 1st, 2nd, STEL, TWA, OVER
Trouble alarm : Sensor connection, low battery, circuit error, calibration error
Alarm Method
Gas alarm : Blinking lamp, intermittent buzzer, indication blinking, vibration
Trouble alarm : Blinking lamp, intermittent buzzer (two tones)
Operating Temperature
-20°C to 50°C
Operating Humidity
Below 95%RH, non-condensing
Power Source
AA size Alkaline batteries, 2 pes
Continuous Operating Time
More than 250 hours (at 25°C, no alarm)
Explosion Proof
Intrinsically Safe, Exia II BT3
Function
LCD manual backlight (automatic light at alarms)
STEL, TWA alarm function
Clock function
Datalogging function, IrDA communication to PC
Standard Accessories
Alligator Clip
Rubber Protector
AA size Alkaline batteries (2 each)
Optional Accessories
Belt Clip
Datalogging software for PC
Extender cable 3m
Dimensions
63(W) X 131(H) X 31(D)mm, without sensor top
Weight
Approx. 215g,
including alligator clip and rubber protector (excluding Alkaline batteries)
Specifications subject to change without notice.
Standard Accessories
Remote Monitor by Optional
Extender Cable 3m