Mumbai (HO) | New Delhi | Chennai | Kolkata | Hyderabad | Ankleshwar

0
Enquiry Cart

Empty Cart

e-Brochure
Multi Gas Detector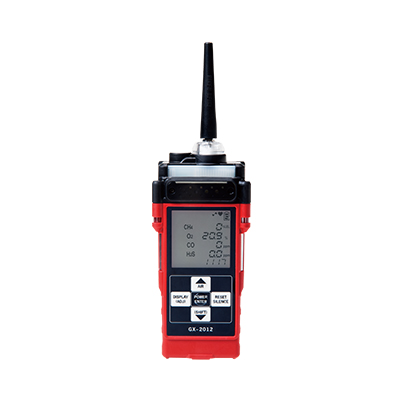 GX-2012 / GT
Built around high-quality micro-sensor technology, the GX-2012 is Riken's smallest personal 5 sensor monitor with a built in sample pump. Weighing only 360g, it has many features which sets the   GX-2012GT apart from the competition. For example, it can monitor the standard gas safety hazards for gas / pipeline operations, (LEL Combustibles, Oxygen Content, and Carbon Monoxide) and it also has a high-sensitivity ppm CH4 leak tracker mode which reads down to 10ppm. It can also measure 100% Volume Methane and dynamically display either % LEL, or % Volume with its auto-ranging ability. The GX-2012GT is excellent for gas line purge testing and Detection of small gas leaks.
Features

Applications

Approvals

Gas Combination

Specification

Accessories
Monitors ppm, LEL, and % Volume Combustibles, O2 and CO (GX-2012GT)
ppm leak Detector, detects down to 10 ppm CH4 (GX-2012GT)
"Leak tracker" Audible/Visual Alarm mode (GX-2012GT)
Snap-logging-on demand Data recording
Pump pause on demand extends Battery life
Vibration, Visual, and Audible Alarms
Lithium ion or Alkaline power source (interchangeable)
Up to 600 hours of Data Logging with Alarm trends
Intrinsically safe, ATEX/IECEx/CE
High Dust and Water resistance design
Personal Monitoring
Confined Spaces
Refineries / Petrochemical / Wastewater Treatement
Utilities
Chemical Plants
Hazzardous Material
Water
Fire Services
Mining
ATEX II 1G Ex ia IIC T4
IECEx II 1G Ex ia IIC T4
CCOE (PESO)
Five Sensor
Type A
PPM / LEL / % Vol / O2 / CO
Four Sensor
Type B
Type C
PPM / LEL / O2 / CO
PPM / LEL / % Vol / O2
Three Sensor
Type D
LEL / LEL / O2
Gas Detected
Combustible Gases
(Methane as standard)
% Volume
Methane
PPM CH4
Hydrogen sulfide
(H2S)
Carbon monoxide
(CO)
Detection Principle
Catalytic combustion
Thermal conductivity
Mos/Catalytic
Electro-chemical cell
Detection Range
0∼100% LEL
0∼100% Vol.
0∼5000 PPM
0∼100 ppm
0∼500 ppm
Sampling Method
Internal sample pump, flow rate nominal 0.5 LPM, includes hydrophobic filter
Display
Digital LCD with 7 segments, auto backlight during alarm
Alarm Sounds
95dB at 30cm
Preset Alarms
(User Adjustable)
1st alarm 10% LEL
2nd alarm 50% LEL
Over alarm 100% LEL
No alarms for
% Vol. CH4
Low alarm 19.5%
High alarm 23.5%
Over alarm 40.0%
1st 5ppm
2nd 30 ppm
TWA 10 ppm
STEL 15 ppm
Over 100 ppm
1st 25 ppm
2nd 50 ppm
TWA 25 ppm
STEL 200 ppm
Over 500 ppm
Alarm Types
Leak Tracker Mode: Escalating audible/visual alarm, charges with gas level (audible can be turned off)
Gas alarms : 1st and 2nd, STEL, TWA (user adjustable) and OVER
Trouble alarms : Sensor connection, low battery, low flow, circuit trouble and calibration error
Alarm Methods
Gas alarms : Flashing lights, two tone buzzer, and vibration
Trouble alarms : Flashing lights, trouble displayed, intermittent buzzer, and vibration
Operating Temp.& Humidity
-20°C to +50°C (-4°F to 122°F)
0 to 95% RH, non-condensing
Response Time
Within 30 seconds (T90)
Continuous Operation
Alkaline battery : 15 hours
Li-Ion battery : 10 hours
Power Source
Li-Ion battery pack, or 3 "AA" Alkaline battery pack; interchangeable
Safety Rating
ATEX II 1G Ex ia IIC T4
IECEx II 1G Ex ia IIC T4
TIIS
CE
Dimension & Weight
Approx. 173(H) x 71 (W) x 43(D) mm, approx. 360g (include 3 "AA" Alkaline batteries)
Standard Accessories
Belt Clip
Rubber nozzele
Wrist strap
Manual
Alkaline battery pack
Optional Accessories
SDM - 2012 calibration stations
Sample draw hoses
Charger
Li-Ion battery pack
Alkaline dry cell (3-AA size)
Datalogging software
Standard Accessories
Alkaline battery pack
Rubber Nozzle
Optional Accessories
SDM-2012
Stand Alone Calibration Station

Charger BC-2012
Ac adapter for Charger BC-2012
A Single module calibration station for the GX-2012 and GX-2012GT portable gas monitors that can calibrate, bump test, charge, and archive data.a.