Mumbai (HO) | New Delhi | Chennai | Kolkata | Hyderabad | Ankleshwar

0
Enquiry Cart

Empty Cart

e-Brochure
Multi Gas Detector
GX-6000
Simply put, the GX-6000 is a game changer. This powerful hand-held instrument is capable of simultaneously monitoring up to 6 gases. In addition to the standard 4 confined space gases which include combustibles, O2, CO, & H2S, the GX-6000 has 2 additional smart channels that accept PID, IR or super toxic sensors.
Equipped with a strong internal sample pump, a man-down alarm, a panic alarm, an LED flashlight, and large auto rotating LCD display, the GX-6000 can operate as a single gas PID unit or a multifunctional tool utilizing all 6 channels. The GX-6000 with a PID sensor will come equipped with a library of over 600 VOC gases to choose from as standard. Choosing from the library is easy with a personalized favorites list of 30 commonly used VOC's as well as a list of 8 of the most recently used VOC's.
The GX-6000 has a rugged design built for the nastiest environments. It is equipped with a removable impact-resistant rubber boot and a dust and water resistant enclosure with an IP-67 rating. With 5 bright LED lights on 3 sides of the instrument, alarms are easily seen from a variety of perspectives. With vibration and loud audible alarm, GX-6000 will easily alert users when needed.
Features

Applications

Approvals

Gas Combination

Specification

Accessories
Multi gas Detection - 1 to 6 gases
Small & light - World smallest & lightest
Wide operation temp -20 to 50°C
Various approvals - ATEX IIECEx I CE
Smart sensor - PID, EC, IR, as
Interchangeable power source - Li-ion I Alkaline
High water .& dust proof level - IP67
Docking station - SDM-6000
New functions - Full dot LCD / Multi language / Man down / Panic alarm / LCD inversion / LED Flashlight
Personal Monitoring
Refineries / Petrochemical / Wastewater Treatment
Confined Space
Utilities
Chemical Plants
Hazardous Material
Water
Fire Services
Mining
Ex ia IIC T4 Ga (ATEX / IECEx)
Standard 4 Gas Sensor

| No. | Target Gas | Sensor | Code |
| --- | --- | --- | --- |
| 1 | CH4 or HC | NC-6264AZP | M or H or O |
| 2 | O2 | OS-8M2 | 1 or 0 |
| 3 | H2S | ES-1827i | 1 r 0 |
| 4 | CO | ES-1821 | 1 r 0 |
Smart Sensor

5, 6
7, 8
VOC (ppb)
PIS-001
P1
VOC (ppm)
PIS-002
P2
SO2
ESS-03DH
E1
NO2
ESS-03DH
E2
HCN
ESS-03DH
E3
NH3
ESS-8332
E4
CL2
ESS-8335
E5
CO2 (5vol%)
DES-3311-1
D1
HC (IR)
DES-3311-2
D2
None
-
00
Battery Type
No.
Battery Type
Model
Code
9
Lithium-ion
BUL-6000
L
Dry alkaline
BUD-6000
D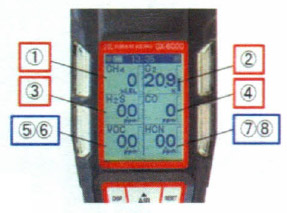 "A" is a fixed code.
Choose a combination of 1-6 gases and battery type from the tables left.
1 to 4 : Standard 4 gas sensor (0 to 4 sensors) 5,6, 7,8 : Smart sensor' (0 to 2 sensors) 9 : Battery type
Ex.) When "M11 OP1E1 L" is indicated, the gases to be detected are "CH4 <%LEL>, O2, H2S, VOC (ppb). SO2", and the battery type is Lithium-ion.
NOTE :
Interference effects on indicated values are seen on some combination. For more details, please contact RIKEN KEIKI.
Gas To Be Detected
Combustible gas
(HC/CH4)
<%LEL>
Oxygen
(O2)
Hydrogen sulfide
(H2S)
Carbon monoxide
(CO)
Ammonia
(NH3)
Detection Principle
New ceramic
Galvanic cell type
Electrochemical type
Electrochemical type
Electrochemical type
Detection Range
0- 100%LEL
0-25.0%
0- 30.0 ppm
0- 150 ppm
0-400.0 ppm
Minimum Resolution
1%LEL
0.1 vol%
0.5 ppm
1 ppm
0.5 ppm
Alarm Setpoint
10%LEL (AL 1)
50%LEL (AL2)
1OO%LEL (OVER)
19.5 vol% (AL 1)
23.5 vol% (AL2)
40.0 vol% (OVER)
5.0 ppm (AL 1)
30.0 ppm (AL2)
10.0 ppm (TWA)
15.0 ppm (STEL)
100.0 ppm (OVER)
25 ppm (AL 1)
50 ppm (AL2)
25 ppm(TWA)
200 ppm (STEL)
500.0 ppm (OVER)
25.0 ppm (AL 1)
50.0 ppm (AL2)
25.0 ppm (TWA)
35.0 ppm (STEL)
400.0 oorn (OVER)
Gas To Be Detected
Volatile organic compound
(VOC)
Volatile organic compound
(VOC)
Sulfur dioxide
(S02)
Nitrogen dioxide
(N02)
Chlorine
(Cl2)
DetectIon Principle
Photoionization type
Photoionization type
Electrochemical type
Electrochemical type
Electrochemical type
DetectIon Range
50000 ppb
6000 ppm
0- 6.00 ppm
0- 9.00 ppm
0- 10.00 ppm
Minimum Resolution
1 ppb
(0 - 5000 ppb)
10 ppb
(5000 - 50000 ppb)
0.1 ppm
(0 - 600.0 ppm)
1 ppm
(600 - 6000 ppm)
0.05 ppm
0.05 ppm
0.05 ppm
Alarm Setpoint
5000 ppb (AL 1)
10000 ppb (AL2)
- (TWA)
- (STEL)
50000 ppb (OVER)
400.0 ppm (AL 1)
1000.0 ppm (AL2)
- (TWA)
- (STEL)
6000 ppm (OVER)
2.00 ppm (AL 1)
5.00 ppm (AL2)
2.00 ppm (TWA)
5.00 ppm (STEL)
6.00 ppm (OVER)
3.00 ppm (AL 1)
6.00 ppm (AL2)
3.00 ppm (TWA)
9.00 ppm (OVER)
0.50 ppm (AL 1)
1.00 ppm (AL2)
0.50 ppm (TWA)
1.00 ppm (OVER)
Gas to be detected
Hydrogen cyanide
(HCN)
Carbon dioxide (CO2)
< vol% >
Combustible gas (HC)
<%LEL | Vol%>
 
Detection Principle
Electrochemical type
Non-dispersive infrared type
Non-dispersive infrared type
 
DetectIon Range
0- 15.0 ppm
0∼5.00vol%
0∼100%LEL /
(to 30.0 Vol%)
 
Minimum Resolution
0.1 ppm
0.02vol%
1%LEL / O.5vol%
 
Alarm Setpoint
5.0 ppm (AL 1)
10.0 ppm (AL2)
4.7 ppm (STEL)
15.0 ppm (OVER)
0.50vol%(AL 1)
3.00vol%(AL2)
0.50vol%(TWA)
3.00vol%(STEL)
5.00vol%(OVER)
1O%LEU-(AL 1)
50%LEU-(AL2)
100%LEU30vol%
(OVER)
 
(*) Automatic %LEL and vol% range switching
Common specification
 
 
Concentration Display
Digital LCD (full-dot display, 160 x 128 dots)
Detection Method
Pump suction type
Flow Rate
0.45 L/min or more (Open flow rate)
Displays
Clock display, battery level display, operating state display and'flow check display
Displays Language
English, Japanese, German, Russian, Korean, Spanish, Italian, French, Portuguese
Buzzer Sound Volume
95 dB (A) or higher (30 cm)
Gas Alarm Display
Lamp blinking, continuous modulating buzzer sounding, gas concentration and alarm detail disolav blinkina and vibration
Gas Alarm Pattern
Self-latching
Fault Alarm/Self Diagnosis
System abnormalities, sensor abnormalities, battery voltage drop, calibration failure, and low flow rate
Fault Alarm Display
Lamp blinking, intermittent buzzer sounding, and detail display
Fault Alarm Pattern
Self-latching
Panic Alarm Display
Preliminary alarm : Lamp blinking, intermittent buzzer sounding
Main alarm : Lamo blinkina, continuous modulatina buzzer soundina
Panic Alarm Pattern
Self-latching
Man-Ddown Alarm Display (*)
Preliminary alarm : Lamp blinking, intermittent buzzer sounding
Main alarm : Lamp blinking, continuous modulating buzzer sounding
Man-Down Alarm Pattern (*)
Non latching (auto-reset)
Transmission Specification
IrDA (for data logger)
Power Supply
Standard : Dedicated lithium ion battery unit [BUL-6000)
Option : Dedicated dry battery unit [BUD-60001
Continuous Operating Time
BUL-6000 : About 14 hours (25°C, no alarm and no lighting)
BUD-6000 : About 8 hours (25°C, no alarm and no lighting)
Operating Temperatures
-20 - +50°C
Operating Humidities
Below 95% RH (Non-condensing)
Structure
Drip-proof and dust-proof performances (compliant to IP67 level) (tubes excluded)
Explosion-Proof Structure
Intrinsically safe explosion-proof structure
Explosion-Proof Class
Ex ia IIC T4 Ga (ATEXIIECEx)
External Dimensions
Approx. 70 (W) x 201 (H) x 54 (D) mm (projection portions excluded
Weight
Approx. 500 g (When BUL-6000 is used)/Approx. 450 g (When BUD-6000 is used)
* Normally the man-down alarm function IS set to OFF and unavailable. To use this function, please contact RIKEN KEIKL
Standard Accessories
BUL-6000
(Li-ion battery unit), Charger

Rubber Boot

Taper Nozzle

LCD Protect Film

Hand Strap

Belt Clip
Filter
CO2 removal filter for CO2 sensor
Charcoal filter for PID sensor
Optional Accessories
Gas Sampling Probe gas sampling hose (0.75m/5m/10m/20m/30m)

BUD-6000 (Alkaline battery unit) AA battery x 3

Data logger Program

PID list Setting Program

SDM-6000